To the Oceans Project
Increasing care and love for the oceans is our work.

Marine topic insights by experts inspire all ages during the online events.

The events bring forward emotions towards sea life. Here you find links, venture blogs and sites sharing nature protecting missions.
About us
Together with our cooperators and networks, we gather ocean information, travel across, learn together and communicate safely at this site.
This project is for better knowing the real side of the oceans by providing links and introducing ocean experts along sea enthusiasts in the online events. Ship trips are documented and shared after. Ocean information sources, travelling across the seas and networking safely offers a fun way to relate to the vast waters as others experiences offer new angles.
When nature protections programs unite into a global network, it is easier to find an own role amongst them. Each ocean protector is an important unit among the vast amount of many earth positive factors across the whole World.
You find here high-quality links on sea experts and information of interesting nature protection causes across, online events links starting 2023, introduced ocean enthusiasts thoughts, documentaries of emotional awakenings on subjects regarding oceans and presented sea experts telling their stories.
To the Oceans Project online events are family-friendly and inspiring! To join, please email sini@totheoceans.com.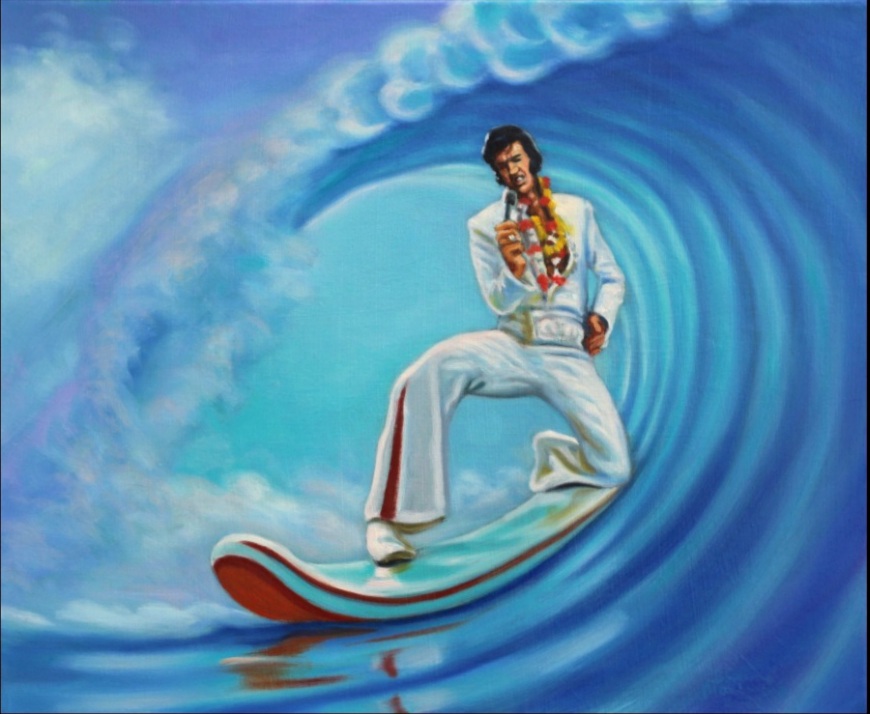 New ocean experience stories and links interest and these pages are updated on a regular basis. To the Oceans Project communicates online and through events each year and with a documented sea trip in 2024.
Your participation is very welcome to the events in many ways: for example as a cooperator or sponsor to the events, with your student class to take part in seminars or even with the work team to hear specials guests during the online hours. The online events are fun, inspiring and sharing thoughts on ocean life.
This project enhances positive feelings for the water cycles equally valuable as the oceans itself. Sea health is the core of the future – aligned into a unity with the air and lands.

Environmental awareness and the will to protect the nature are an inspiration to us all.
Protecting the nature can become a trend and regular part of daily life.

A positive relationship for diversity shares creative global visions regarding nature elements.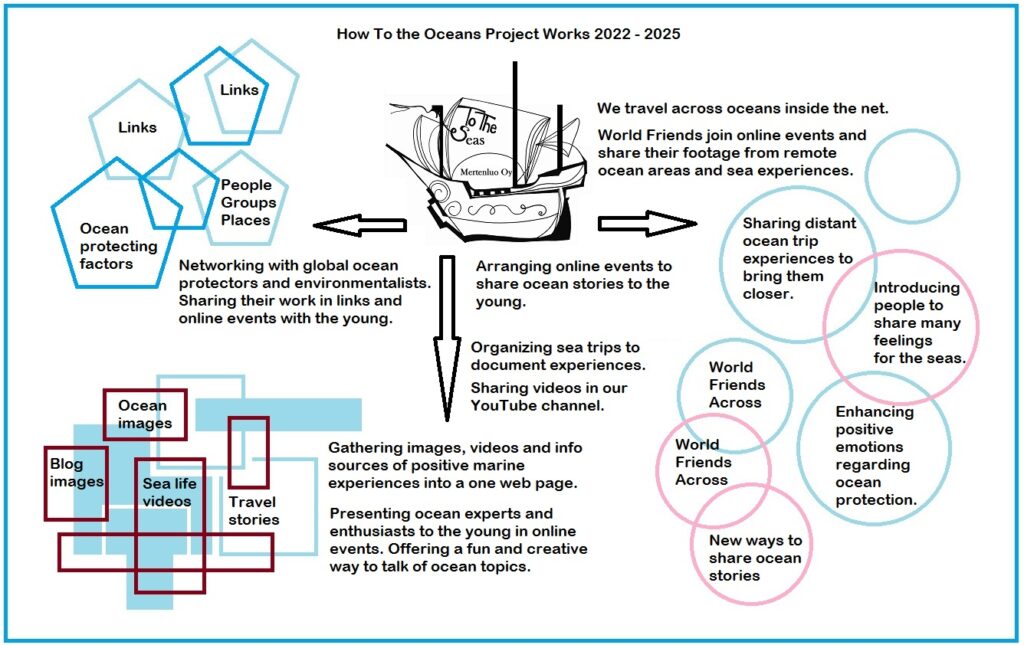 If your school group or student team would like to create paintings or drawings of sea creatures and ocean life, we are looking for student volunteers to display their images, photos or ocean videos in our online events for Fall 2023 and 2024.

Please tell us your inspiring ocean ventures with images in the blogs here!
Contact: Project Manager Sini Kunnas, sini@totheoceans.com.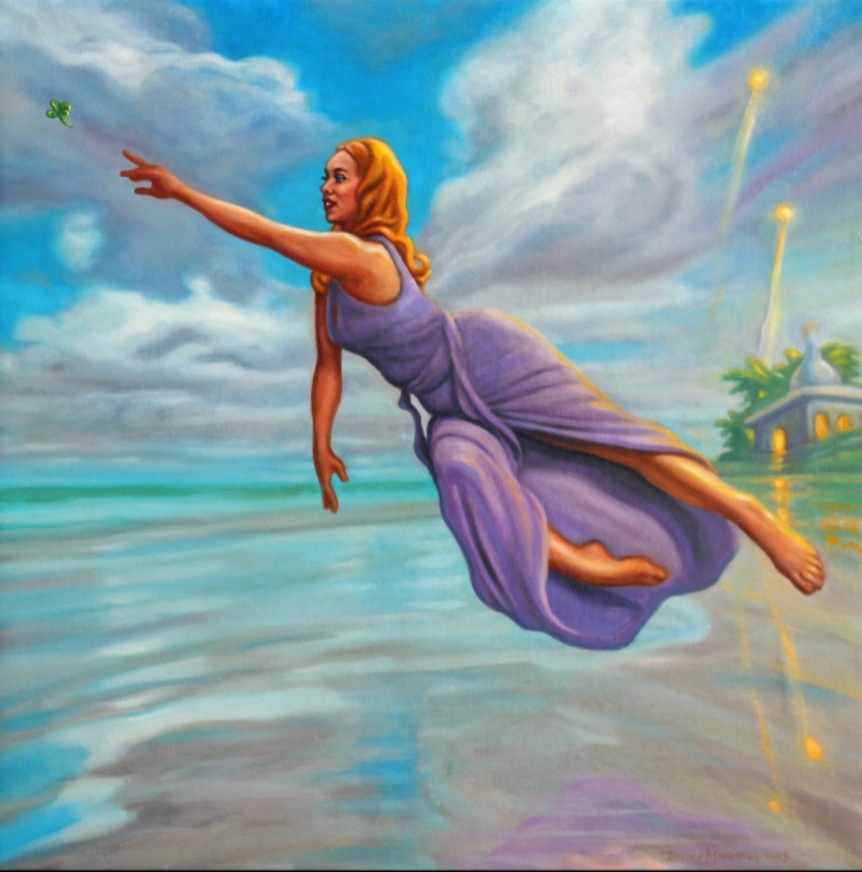 The young, their families and cooperating contacts are the main part of our network.
See the 3 programs: welcome to join the online events for 2023 and 2024.

To the Oceans Project has 3 main programs, which are:

1. Guardians of the Blue –
Youth and Families Ocean Program
(Online events 2023, sea trip 2024)

2. Ocean Meditation Team –
Sprituality for the Oceans Future Program
(Online events)

3. Mertenluo Program –
Arctic Oceans Travel and Cultures Program
(Online events 2024)

To the Oceans Project is hosted by the company ToTheSeas Mertenluo Oy (Ltd) and supported by cooperators working for protecting the nature.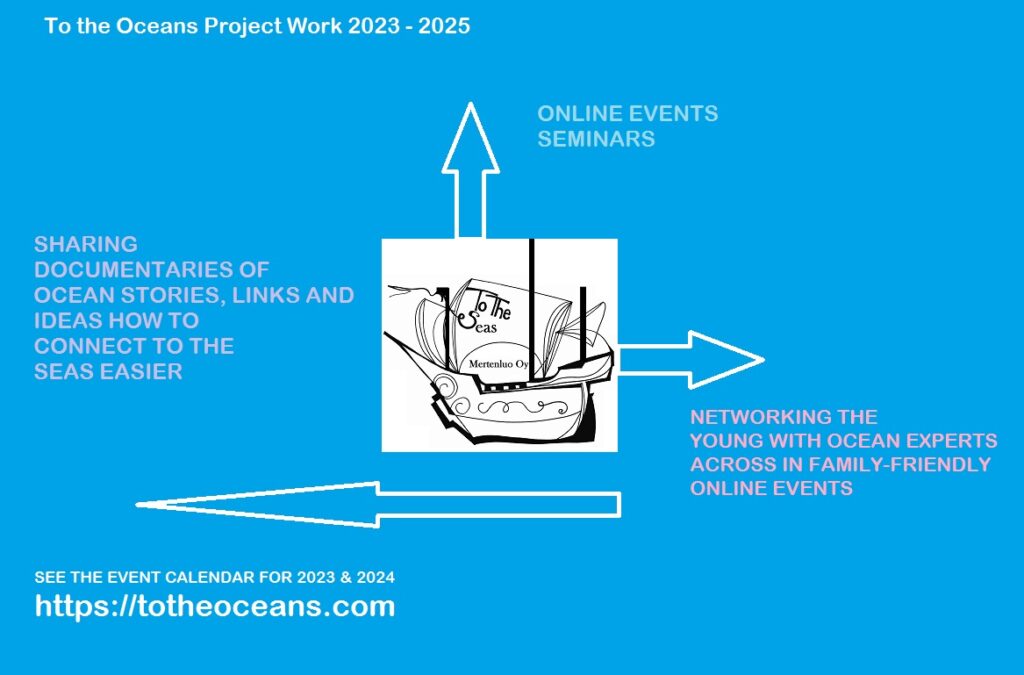 Lets together make the connection to the oceans easier, special and of a life-long importance.

See you soon at the online events – welcome onboard!

Sini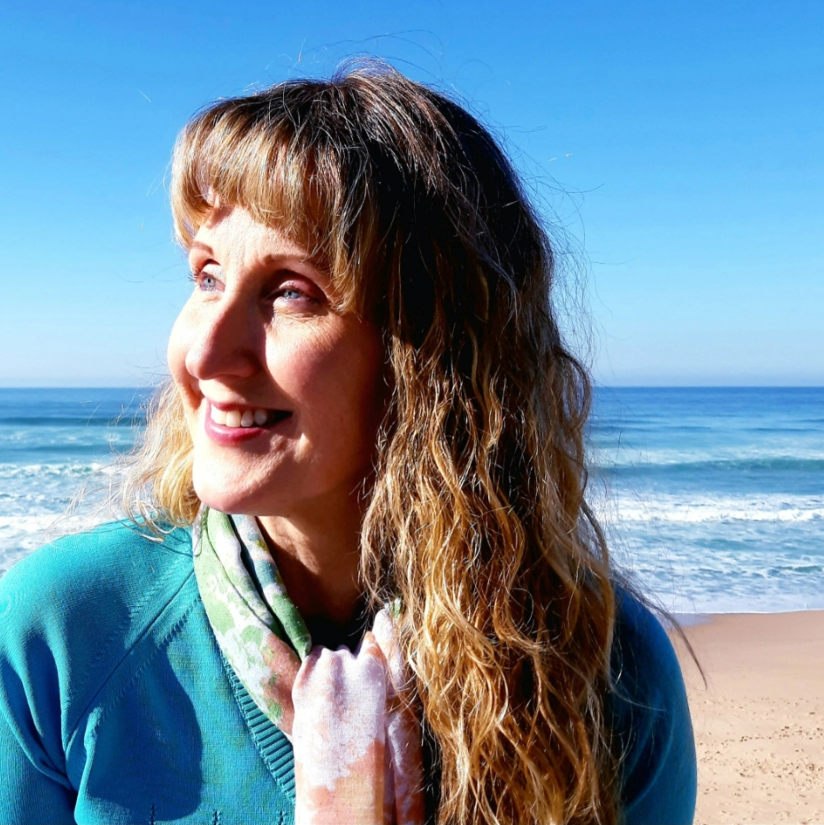 Join us
What we do
The oceans journey's are documented to show heart-felt insight about personal experiences with the big seas. This project connects the young with ocean experts online during the events. Through sharing a closer relation to the big seas can be increased. When special ocean stories are expressed online, it is often easier to relate to the feelings experienced by those who went out to the far oceans.
Stories by others help us relate to ventures and trips made, even when meeting ocean animals. To the Oceans Project increases the emotional connection to differents subjects of marine life.
This project works mainly with the young and their families, ecofriendly firms and cooperators along faculties offering information on oceans.
At these pages you can find 2023 seminars, online events, 2024 sea trips documentaries and gathered info from ocean friendly factors. Blogs of oceans experiences are shown with online events and sea ventures.
As there are many wonderful ocean experts already doing good work for the seas across the planet, we seek great links to be shared and introduce people in blogs about international environmentalist work. Positiveness, respect for many cultures and holding a non-violent approach to nature protection are our values. To the Oceans Project introduces, shares and links.
If you wish to share beautiful ocean images along your special story or videos of nature-friendly sea trips, please be in touch!
Becoming a sponsor to the online seminars or trips is a delightful way to be heard by the young, their families and even many oceans influencers across.
Welcome with your class group or team to join the oceans online events 2023. If you wish to be a sponsor, please contact:
Manager
Mrs. Sini Kunnas
sini@totheoceans.com
+358409300203
Youth Programs Manager
Mr. Mico Lassander
mico@totheoceans.com
The newest
Blog Posts
We publish stories of ocean ventures, news and sea travellers experiences. To the Oceans Project supports making oceans become nearer by sharing, reporting and documenting sea stories.
We together meet here with shared marine stories to cocreate a new connection to a familiar subject, "the seas". New blogs are published on a regular basis. The blog "See Our Sea Links" offers new information each week.
Hi, we are Kerttu (12 yrs) and Martta (10 yrs) and we live on a Swan 57 monohull sailboat. We have lived on a boat most of our lives (that we remember), almost five years altogether sailing around the World. We sailed with our mom, dad and our big brother for four years to the…
https://www.bird-man.com/jari-mh-kuosma Jari Kuosma has been invited to be a regular guest for To the Oceans Project online hours. He tells of his experiences as a professional skydiver and free fall jumps with interesting points regarding life. To join the next Zoom- shows and to get their links, please see the event pages at this site….
Coming soon
Online store
Opens 2024 Fall
Please follow for our nature friendly products in our shop Fall 2024.
We will be delighted to present our online store soon!